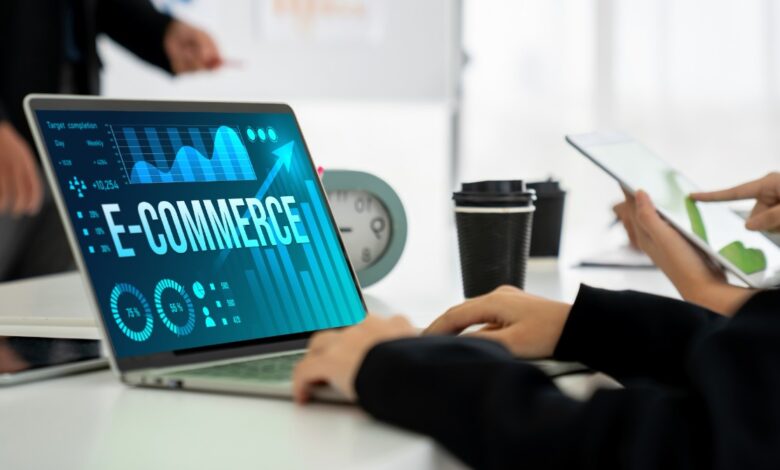 B2B eCommerce platforms are designed for businesses that sell goods or services to other businesses rather than consumers. These platforms typically have different features and functionality than B2C eCommerce platforms because they are geared toward business users rather than individual shoppers.
Some key features that a B2B eCommerce platform should have include:
the ability to manage large inventories,
support multiple currencies and languages, and
offer a wide range of payment options.
Other important considerations include scalability, security, and customer support.
Choosing the right B2B eCommerce platform is essential for any business that wants to be successful in online sales.
How to Choose a B2B eCommerce Platform?
The most important factor while choosing a B2B eCommerce platform is whether the platform can support the specific needs of your business. Other factors are:
Easy ERP Integration
Budget
Scalability
User Experience
Technical Support
● Easy ERP integration
An eCommerce platform is not complete without a good ERP system. The two systems need to be integrated to streamline your business processes.ERP software integrates all of your core back-office functions such as inventory management, accounting, and human resources, into a single integrated system, allowing you to better manage your day-to-day operations. A B2B eCommerce platform should support seamless ERP integration, ensuring that all activity related to your online store is in sync with your back-end operations. This will save you time and money on development costs.
● Your budget
Determine what you need from your eCommerce platform and base your budget on that. Consider how much you're willing to spend each month on hosting, maintenance, design, web development, and IT resources. Many service providers offer affordable packages that include all of these features. You'll need to decide which features are most important to you and your business and set your budget accordingly.
Choose a PCI-certified eCommerce platform. Maintaining a safe, secure, and compliant online store can be costly and time-consuming, so opt for a platform that includes full certification and guaranteed data protection for your customers and your business.
You must consider the ongoing costs of running an online store in addition to the cost of the platform. These can include things like hosting fees, transaction fees, and marketing costs. Consider these when deciding how much you can afford to spend on a BB eCommerce Platform.
● Scalability
Choose an eCommerce platform that is developed to scale with your company. Even if your online store isn't currently experiencing high traffic, it's critical to have the infrastructure in place to handle the increased demand that will come as your business attracts new customers and grows.
Check whether the platform can handle the high traffic volume. If your website gets a lot of traffic, you need to make sure the platform can handle it. Otherwise, your website will crash and you will lose sales.
Finally, you need to consider how easy it is to scale up or down on the platform. If you need to make changes to your website frequently, you need a platform that makes it easy to do so. Otherwise, you'll waste a lot of time making changes that could have been avoided.
● User experience
Select an eCommerce platform that provides an excellent user experience. Many tools are now available from eCommerce platform providers to help B2B retailers provide a personalised user experience, resulting in higher conversions and sales. You would like your customers to have a positive experience when they visit your site, and you also wish to ensure that the platform you select is simple to use for you and your team. Make sure your eCommerce storefront and the entire transaction process are responsive to all devices for a positive user experience. You can confirm a better user experience by checking the following:
-Ease of use: Is the platform easy to navigate and use? Can you and your team find what you need quickly and easily?
-Customer support: Does the platform offer customer support in case you or your customers run into any problems?
-User reviews: What do other users say about the platform? Are there any common complaints?
● Technical Support
When it comes to technical support, you want to make sure that the BB eCommerce platform you choose has a team of experts who are available 24/7 to help you with any issues you may encounter. Make sure that the platform offers a robust self-help centre where you can find answers to common questions and problems.
Keep these pointers in mind while choosing a B2B eCommerce platform:
➢ Consider your business model
Once you know what type of business you're running, you can start narrowing down your options for eCommerce platforms.
➢ Consider your industry and sector
Depending on your business, you may need a platform that offers specific features or integrations. For example, if you're in the fashion industry, you'll like to have a platform with strong product management capabilities. Alternatively, if you're in the food and beverage industry, you'll need a platform that can handle complex shipping options.
➢ Consider your target market
When choosing a B2B eCommerce platform, consider your target market. Also, consider your budget and the features you need to support your business. There are many BB eCommerce platforms available, so take the time to research and compare them. Be sure to read reviews from other users before making a final decision.
➢ Consider your target market
When it comes to choosing a B2B eCommerce platform, one of the first things you need to consider is what you want to sell. Do you have a product or service that you want to promote? If so, you need to make sure that the platform you choose has the features and functionality that will allow you to do this.
Conclusion
Your B2B eCommerce platform selection can make or break your business. B2B digital marketing firms develop online marketing campaigns to promote services and products geared toward businesses rather than individual consumers. The Viral Mafia Digital Marketing Agency in Kochi specializes in strategies and channels that attract and influence the purchasing decisions of business decision-makers. With innovative strategies, Viral Mafia also stands out as the Best Growth Hacking Agency in Kochi.
Boomrang Ecommerce Marketing Agency in Kerala specializes in designing unique websites that attract and retain visitors. Our services include website domains, hosting, SSL, payment gateway integration, logistics integration, and digital marketing training. We also offer comprehensive market research and technical support to help grow your business. Boomrang is a sub-brand of Viral Mafia and is solely dedicated to e-commerce solutions to greatly benefit individuals starting an e-commerce business.
Whether you want to sell to local customers or expand into new global markets, your eCommerce platform is the foundation of your online business and will have a significant impact on its long-term success and growth. So let's work together and be enlightened towards the changing business trends!